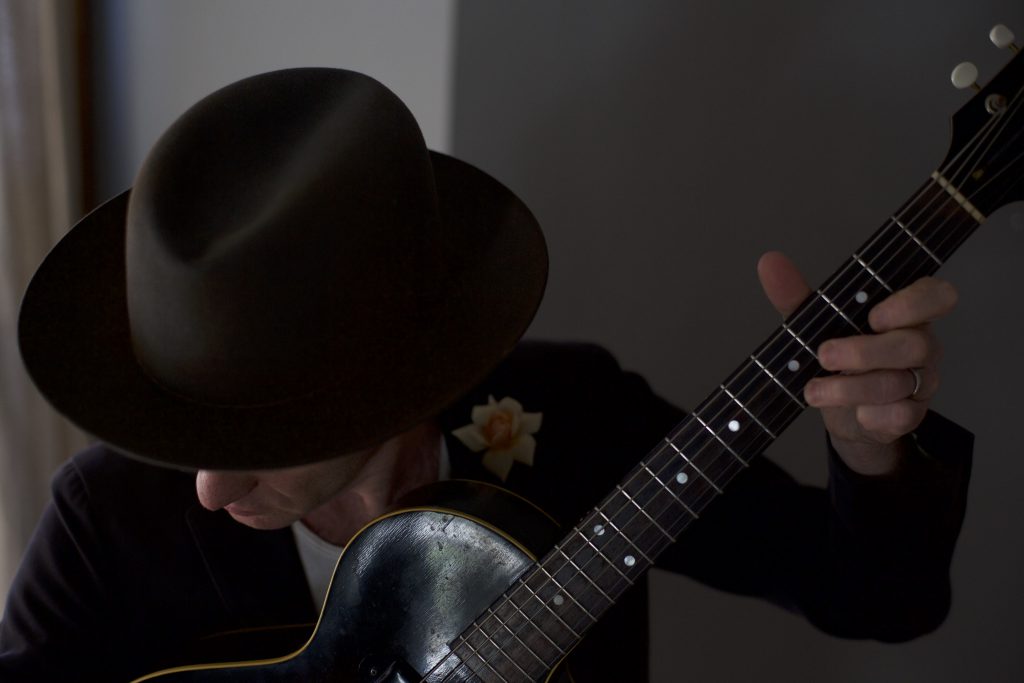 Listen to Sean's Music here: 
If there were a map of Sean Hayes' 20-plus year career, it would be circuitous. A tangled criss-crossing of backroads and blue highways denoting place, influence, and trajectory. You can hear it in the deep-roots syncopation, in the dusty folk-stomp and in the biorhythmic pulse that ebbs and thumps throughout his soul-tinged songs.
For Hayes, it's never been about the destination. It's always been about the journey: The words on paper, fingers on strings, impromptu dance parties, darkened clubs, late night mysteries, firing synapses, human connection, deeper meaning and the kind of beats that really make a body move. "I got moves the kids ain't seen," he sings on "Magic Slim vs. Dynamite." The smoke-and-sparklers dance party video for the song aptly captures the serious fun of his music.
Born in New York and raised in North Carolina, Hayes headed for California two decades ago. It was in San Francisco that his career blossomed. But Hayes credits the Carolinas towns like Asheville and Charleston — places where he first wrote and performed tunes such as "Mary Magdelene" — with imprinting him as an artist.
Hayes forges songs that, even to the uninitiated, sound like hits. He's been compared to Bill Withers for his rhythmic sense and his soulfulness. His "Powerful Stuff," got a lot of mileage in a Subaru commercial. "Dream Machine" was re-mixed by DJ Mark Farina, "A Thousand Tiny Pieces" was covered by folk group The Be Good Tanyas, "Fucked Me Right Up" landed on the soundtrack to HBO's "Bored to Death." He has dueted with Aimee Mann, toured with the likes of Ani DiFranco and the Cold War Kids, and his breathlessly sexy slow dance, "When We Fall In," inspired pop star Justin Timberlake to blog rhapsodic.
Listening to his songs on recording is one thing, live is another experience altogether. Hayes is at once dynamic and laid back on stage. His ability to be authentic in front of an audience comes, he says, "from having just enough of a theater background to realize that being yourself on stage is more interesting than any stereotyped character." He adds, "I've always been interested in revealing and stripping down and being open."
The musician has covered a lot of ground in his tenure, but now, seven albums in, he shows no sign of slowing. "Music has changed a lot," he says of his time in the profession. "You used to have to spend time with a record. You had to take chances and buy records. They were real objects that took up space in your room. Now we have access to enough music, on our phones, to fill libraries." So how to stand out among a sea of musical artists? Hayes continues to hone his intoxicating blend of ease, effortless cool and magnetism. There's a definite continuity over the span of his back catalog, which dates to his 1999 debut, A Thousand Tiny Pieces. There's also a distilling of intention and refining of style. He revisits subject matter — sex, emotion, universal life experience — from album to album. "Themes will recycle some," he says, but Hayes' approach is more of a spiraling in and deepening of understanding than a simple return.