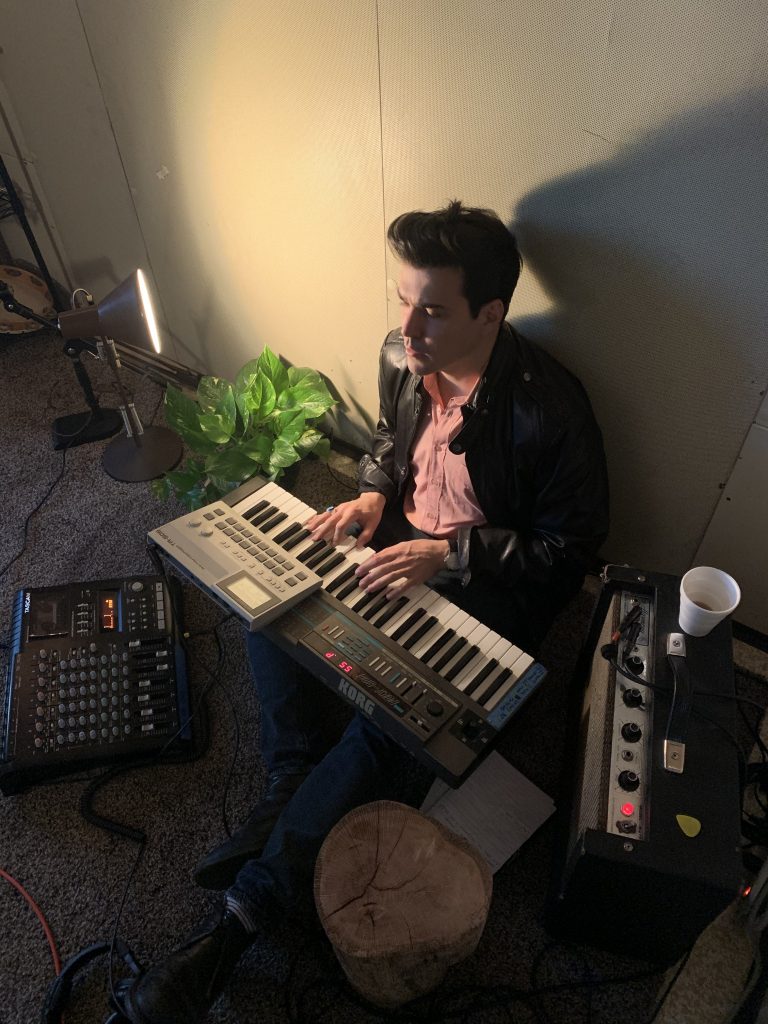 Vincent John's distinctive musicianship can be heard around the globe through his songwriting and performances on soul and R&B records in collaboration with Lee Fields & The Expressions, Nicole Wray, French Montana, Aaradhna, El Michels Affair and more. He works out of his own studio and record label, Eraserhood Sound, in the Callowhill neighborhood of Philadelphia, pioneering a new sound dubbed "Synth & Soul".
Vincent got his start in 2010 after Truth & Soul Records discovered his talent as a songwriter and session musician. He quickly joined the ranks, contributing to the label's productions, by way of his songwriting and recording chops on piano, bass and guitar.
Commuting from Philadelphia, Vincent would take the train to NYC for sessions with Jeff "Dynamite" Silverman and later Leon Michels at Truth & Soul, before eventually settling in Brooklyn in late 2012. Known for bringing his songwriting-focused "Philadelphia Sound" to NYC, Vincent was embraced by the producers at Truth & Soul as a principal songwriter, bassist, pianist, and guitarist for the label's productions.
After writing and recording on several releases, including Lee Fields' Faithful Man and Nicole Wray's Lady, Vincent was recruited to join Lee Fields & The Expressions as an international touring guitarist and occasional bassist from 2012-2019. While touring the globe, Vincent relocated back to his hometown and developed his own independent solo project resulting in a shimmering R&B/pop sound with Vincent himself on lead vocals while also sitting in the producer's chair. Colin Stutz of Billboard said of the project "as guitarist for Lee Fields & The Expressions, John knows a thing or two about soul music. But on Heaven Knows, he finds his own voice in some of the 1980s most timeless pop and new wave artists with a modern electro-pop twist, delivered with a soulful sense of honesty."
Since Truth & Soul, Vincent John has contributed to Big Crown Records (an evolution of Truth & Soul) and Colemine Records, two taste-making labels in the independent soul scene, as well as to various major and indie label projects. He remains an in-demand figure for discerning soul and R&B songwriting, performance and production, specifically for his attention to detail in lyrics and vocal production.
Today, Vincent runs his own Philly-based production company and record label, Eraserhood Sound, as he pioneers a new sound dubbed "Synth & Soul". Eraserhood Sound has produced an impressively dynamic collection of releases ranging from the cold and chugging soul masterpiece, "Julieta" by the label's otherworldly house band Fantasy 15, to the ethereal Italian soundtrack instrumentals found on Ribelle Di Mare. Distributed by Secretly Distribution, Eraserhood Sound releases limited vinyl pressings of synthesizer-laced funk and soul music embodying Philadelphia's rich tapestry and John's own dynamic sensibilities to create a sound like no other.