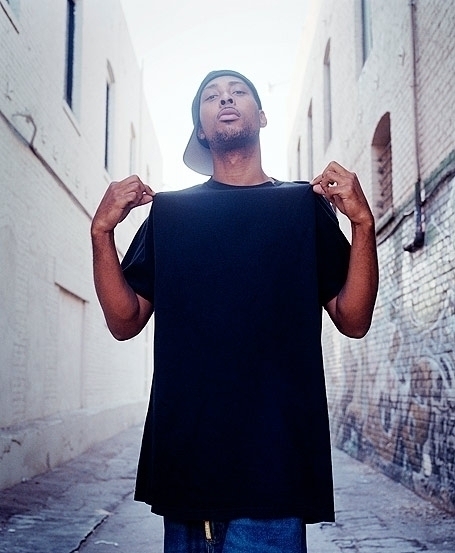 It was around the age of 11 when making beats won out over video games to become Oh No's most obsessive pastime. Over the years, as the Cali-bred b-boy honed his skills of rhyming and producing, it became obvious that – like his brother Madlib (iconic hip-hop maestro), his father Otis Jackson (cult '70s soul singer) and his uncle Jon Faddis (renowned jazz trumpeter) – Oh No would go on to pursue the family business of music.
Oh No debuted as a producer and MC in his own right with The Disrupt, his 2004 full-length on Stones Throw Records. With recent beat production on the albums of fellow Oxnard, CA-based MCs Wildchild, MED and new signee Roc 'C', Oh No has probably logged more beats on Stones Throw releases than anyone else besides Madlib. In recent years, Oh No has carved out a funky style related, but distinct, to that of his famed sibling, as magazines like XXL, The Source and URB have all attested. A landmark collaboration with jazz/funk legend David Matthews (arranger behind many of James Brown's finest albums) at last year's Red Bull Music Academy – where Mr. Matthews composed an orchestral piece based on a single Oh No beat – hinted at the scope of things to come from the young underground impresario.
The hip-hop world can now witness Oh No's musical vision with Exodus Into Unheard Rhythms, a unique concept album made of beats derived solely from Galt MacDermot samples. Known primarily as the composer of the late-'60s smash musical HAIR, Galt MacDermot distilled the essence of R&B rhythms and Broadway melodies into a unique and potent groove for the Age of Aquarius. After his breakthrough hits from HAIR, MacDermot perfected his sound throughout the following decades on his own imprint, Kilmarnock Records, backed by longtime collaborators, jazz/funk drumming legends Bernard Purdie and Idris Muhammad. MacDermot offered Oh No access to his huge (and still growing) catalog of music for his work on Exodus.
Once he put his own sonic stamp on the composer's inimitable material, Oh No pitched the 70-plus beats he made to the MCs in his network. A formidable cast heeded his call to lyrically bless – from veterans like De La Soul's Posdnuos and DITC legend A.G. to current indie powerhouses like Murs and Vast Aire. Longtime Oh No comrades like LMNO, M.E.D., Aloe Blacc, Wildchild and Dudley Perkins do their parts, while appearances from Buckshot of Black Moon and Wise Intelligent of Poor Righteous Teachers lend additional weight to the all-star cast. While he only touches the mic on three tracks here, Oh No's production efforts alone prove that he is one of those musical mavericks who – like Galt – hear the unheard rhythms first, and lead the way for the rest.