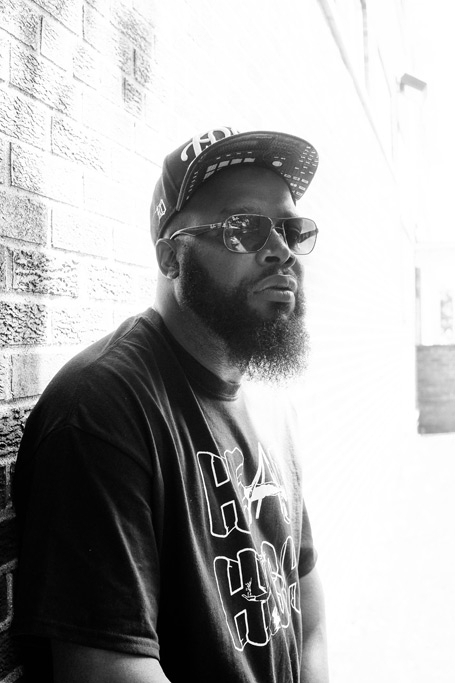 Guilty Simpson was born in Detroit, the son and grandson of the family's performing musicians in his father and grandfather. At age four, Simpson and his mother began traveling with an aunt in the military, living in California and Birmingham, Alabama, before settling back in the Motor City at 15. Big Daddy Kane, N.W.A, and Scarface were all major influences, but it was Queens-bred street bard Kool G Rap who made the biggest impression. "That's my crème de la crème rapper right there," says Simpson, his own presence among the latest in a rich lineage of heavy-handed MCs.
For years Guilty Simpson has been a rock on the Detroit hip-hop circuit alongside those such as J Dilla, Slum Village, Eminem (whom Guilty still calls "Marshall") & D12, Obie Trice, Proof, Phat Kat and Black Milk. A member of the Almighty Dreadnaughtz crew, Guilty emerged as a sound to be reckoned with after linking with producer Dilla in 2001. In the midst of recording an album's worth of material on the MC – including the recently released duet "Take Notice" off of Dilla's heralded Ruff Draft album – Dilla gave Simpson his first appearance on disc with "Strapped" (from 2003's Jaylib album).
2006 marked his allegiance with Stones Throw Records – at Dilla's behest – where he has released Ode to the Ghetto, OJ Simpson, and Detroit's Son.
Guilty's testosterone-charged, inner city themes possess of a sense of humor at times so side-splitting, it only proves how serious he really is. This rapper was raised on the field of battle and he has more to say than just how fresh he is and how fresh "they" are not. As a matter of fact, he's found that he's here to remind the hip-hop world – currently captivated with that manufactured freshness – that life in the ghetto is real.
The evidence shows excessive use of double entendres, too much flavor on public grounds, microphone assault, and verbal harassment of an officer of the law. On the counts of freshness AND realness: The Court of Hip-Hop finds Mr. Simpson to be Guilty.
— Bio by Ronnie Reese.