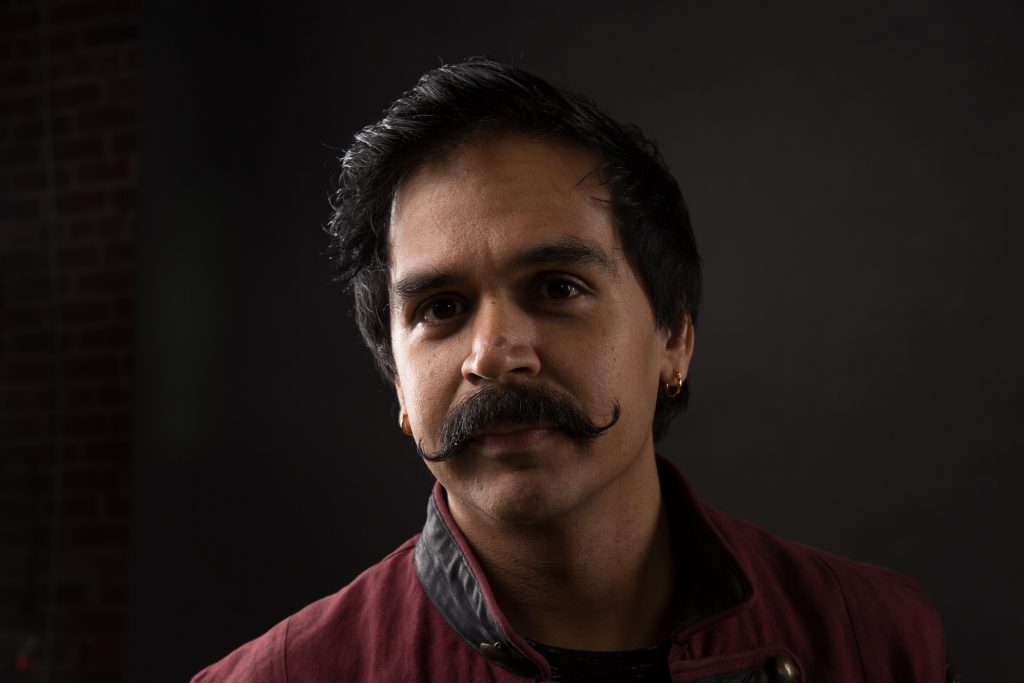 Called the "Hendrix of dhol" by Manchester Salon (UK), Jain deftly blends the modern and the traditional, the personal and the communal, the inventive and the festive. Nowhere is that exemplified as vividly as in Red Baraat, the frenzied fusion of bhangra, hip-hop, jazz, rock, and sheer, unbridled energy that he founded in 2008 and that NPR has called "the best party band in years." Red Baraat started as just that – a party band, devised for Jain's own wedding day – but quickly evolved, first to become the hottest ticket in Brooklyn then to raise pulse rates at the White House, TED Talks, the Bonnaroo Music Festival, Austin City Limits, Peter Gabriel's WOMAD Festivals, and the closing ceremonies of the London Paralympic Games.
Growing up in Rochester, New York, Jain banged his head to Van Halen and Rush while being captivated by the devotional songs and classic Bollywood soundtracks his parents brought from their native India. Studying jazz, he drew inspiration from giants like Elvin Jones and Max Roach. He went on to work with the likes of Norah Jones, Marc Cary, Kyle Eastwood and Kenny Wollesen on the thriving NYC jazz scene while forging his own pioneering path melding jazz and South Asian music. Through his Taboo project, Jain directly confronted social justice issues facing the South Asian community, drawing inspiration from ghazals, ancient love poems, to address sensitive modern problems like sexual identity, domestic violence, and religious acceptance.
In the Sunny Jain Collective, the drummer/bandleader explored the ways that Indian classical music and other music could transform his jazz influences enlisting like-minded exploratory artists including Pakistani-American guitarist Rez Abbasi and Indian-American vocalist Samita Sinha. He also teamed with Sinha as well as guitarist Grey Mcmurray in the trio Tongues in Trees, which melded ethereal indie-pop with driving Indian rhythms. With the Pakistani singer/musician/writer Ali Sethi, Jain created Resident Alien, an uncategorizable ensemble focused on exploring the timely idea of migration.
Wielding the shoulder-slung, double-headed dhol, meanwhile, he brought together all of those influences with the cacophony of sounds flowing together in the streets of New York City to create Red Baraat, while bringing the instrument to new audiences via the Broadway stage (in Bombay Dreams, the first ever Indian Broadway show), the TV set (his song "Chaal Baby" was featured on the hit FX series It's Always Sunny in Philadelphia), or the silver screen (appearing in the Uma Thurman/Colin Firth film The Accidental Husband).
"Communal" can only begin to describe "100+ BPM," the massive composition that NPR Music commissioned Jain to write for "Make Music New York" day in 2014. The piece convened more than 350 musicians on the steps of the Brooklyn Public Library, including the drumlines of the New York Jets and Knicks, prominent brass bands from across the city, and a number of talented high school band students. Jain has also received composition and performance grants from the Aaron Copland Music Fund, Chamber Music America, Meet the Composer, Mid-Atlantic Arts Foundation, globalFEST Touring Fund, MASS MoCA, and more. Signal to Noise declared, "Jain's unique compositions stake out singular turf in this 21st Century world of cross-pollinating musical traditions."