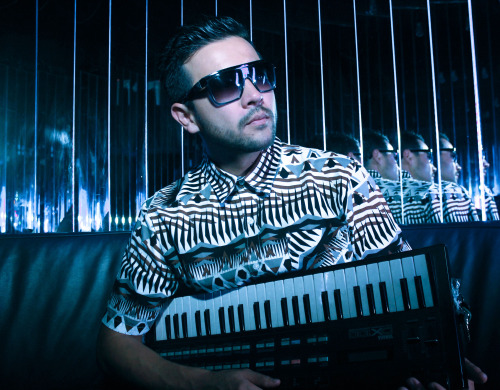 Los Angeles-based Adam Mori, aka, B. Bravo adds a touch of love to every soulful groove he gets his hands on.  His signature sound, connecting cosmic g-funk, r&b, and dance music have made him a name in the electronic music scene as well a key player in the worldwide modern funk movement.
As a tasteful producer, party-rocking DJ, master of the talkbox, bandleader, alumni of the prestigious Red Bull Music Academy, Bravo is an accomplished performer both at home and abroad,  with numerous tours throughout Europe and Asia.  He's played alongside artists like Erykah Badu, Flying Lotus, Dam-Funk, Hudson Mohawke, at festivals like Laneway Singapore, Raising The Bar in Kuala Lumpur, Detroit Electronic Music Fest, Sonar in Barcelona, Positivus Festival, Snowglobe, SXSW, Basscoast.
Bravo's debut EP in 2009 'Analog Starship' on Salva's Frite Nite Records became an instant classic among beat heads and his massive tune 'Computa Love' gained international acclaim as one of London tastemaker Benji B's 'best of' selections for his BBC 1xtra radio program, and as the lead track and 12-inch from Gilles Peterson's 2010 Brownswood Electr*c compilation.  Following his third EP 'Kiss & Tell' on the London based Earnest Endeavours imprint, Bravo teamed up with fellow SF synth and turntable wizard, Teeko to deliver the superb 'Starship Connection EP' in 2012.  In 2013 the two were commissioned by Bastard Jazz Recordings to compile vol. 2 of their 'Tempo Dreams' series which was received with much acclaim and included their smooth 2-stepper, 'We Can Go All Night'.  In 2014 and 2015 he produced much of the original soundtrack for Red Bull's BC One World Breakdancing Finals in Paris and Rome.  His own solo full-length album is also set for release in 2016 on Bastard Jazz Records, following the release of the first single 'Energy' and it's captivating music video.
Other notable collaborations include work with Frite Nite founder and Peacemaker label head Salva, Team Supreme and Soulection heavyweight Mr. Carmack, Portland vocalist Reva DeVito, with their classic cover of Sade 'Sweetest Taboo' and an original R&B hit entitled 'Kisses' for the HW&W label in Los Angeles.  Production and features on Sir Grzzwall's "Vegas Knights EP" He's also known for his remixes of KP & Envyi's 90's classic 'Swing my Way', Chris Brown's 'Fine China' and Michael Jackson's 'Love Never Felt So Good.'
Mr. Bravo's band 'Starship Connection' with fellow funkster Teeko and vocalist Rojai kicked off in 2011 and has lit up festivals in the US like Northern Nights, Forward Festival, Decibel Festival, HARD Summer LA, SF Modern Funk Fest, Oakland Music Festival and a legendary Boiler Room set at Red Bull Studios LA.  A full-length album for Starship Connection was released in 2016, following a smash hit 7″ of the Zapp tribute and pop-locker's anthem "Heartbreaker" on the Austin Boogie Crew label.