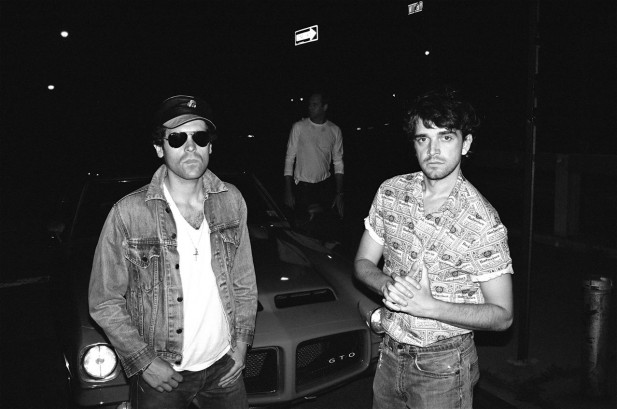 A.R.E Weapons is an art-punk electro band from New York. Formed in 1999, A.R.E. Weapons grew out of a love of the Velvet Underground, the Ramones, the Stooges and Suicide. At the time, founding members Matt McAuley, Ryan Noel, and Brain McPeck were Ayler's Angels, an untrained, spastic, but heartfelt homage to Albert Ayler that Matt and Brain formed in Washington DC.
In 1997, already growing bored with DC, an invitation to open for Thurston Moore at the Cooler seemed reason enough to move to New York.
In addition to playing free jazz in NYC, the boys formed other no-wave inspired acts including Russia and Neon France. A.R.E. Weapons was formed when Brain was invited to play a solo show at the Pink Pony, when the Pink Pony was a coffee shop with a stage in back. Armed with Matt on bass, Ryan on guitar, an old Roland drum machine, and an obsession with war, crime, and Rainer Werner Fassbinder, Brain, singing for the first time in his life, let it rip. The boys started making a bit of a name for themselves, mostly by playing wild, messy gigs at the art galleries where their friends worked, namely American Fine Arts, Pat Hearn Gallery, Gavin Brown Enterprise, and Greene Naftali. It was more fun having a jam in a big empty space than the same old rock venue, they reckoned.
Around this time, Matt and Brain hooked up with Thomas Bullock, an English ex-pat and DJ with whom they discovered a mutual musical appreciation for Implog, the Normal, Jamaican dancehall and old-school hip-hop. Together, in an elevator shaft in Greenpoint, A.R.E Weapons recorded their self-released CD, "The Gold Demo," which ended up in the hands of Jarvis Cocker, of Pulp fame, who played it for Jeff Travis, of Rough Trade fame. One day, the Weapons received a fax at a girlfriend's house, asking if they wanted to sign to Rough Trade.
Paul Sevigny entered the picture as the boys were working on the demo. He'd seen the band at the Cooler and decided, though he'd never managed a band, to do just that. Upon Bullocks' exit to start a family, Sevigny, with a background as a DJ himself, became the keyboard player.
The Weapons' eponymous debut record was released by Rough Trade in 2003. Now, 7 years and 2 records later (Free in the Streets in 2005 and Modern Mayhem in 2007, both on Defend Music), the boys return with Darker Blue. Driven by synths and drum-machine, Darker Blue pays tribute to its stylistic forbearers, namely the Velvets and Suicide, while injecting a brand of heart and energy that is the Weapons' alone. Tales of vigilante subway drivers, night creatures, and general street-corner weirdoes populate the album. The Weapons go to lengths to prove that grit, grime, and attitude will somehow always manage to survive in the face of this new, fresh-scrubbed New York City.
In 2008, the boys started an ongoing collaboration with one of the their all-time heroes Alan Vega. The first Vega/Weapons single, See the Light, was released in the spring of 2009 on Blast First Petite. And in addition to the Weapons, Matt and Brain perform as TV Baby and, most recently, have formed Jailbait with JR Reynolds and Alex Neimitz.
taken from areweapons.com